Dexa (Bone Density / DXA)
Dual X-Ray absorptiometry (DXA) is the preferred technique for measuring bone mineral density (BMD). A relatively easy procedure to perform and the amount of radiation exposure is low.
DEXA Bone Scan Benefits:
Quick and noninvasive procedure
Most accurate method for diagnosis of osteoporosis
Produces best images for evaluation
May help predict risk of fracture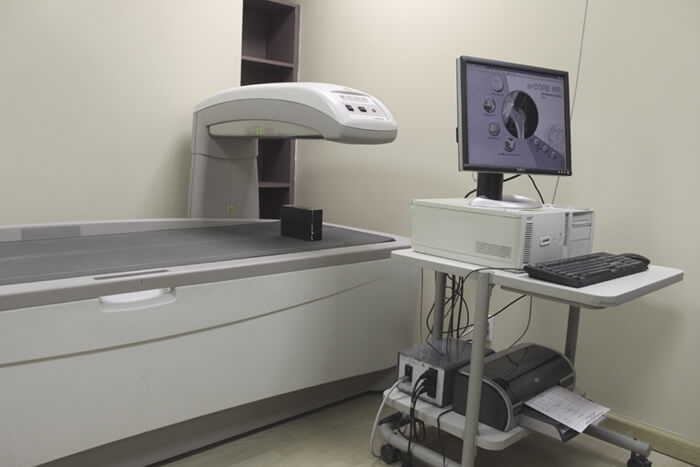 About DEXA
Dual-energy X-ray absorptiometry (DXA, previously DEXA) is a means of measuring bone mineral density (BMD). Two X-ray beams, with different energy levels, are aimed at the patient's bones. When soft tissue absorption is subtracted out, the BMD can be determined from the absorption of each beam by bone. Dual-energy X-ray absorptiometry is the most widely used and most thoroughly studied bone density measurement technology.

The DXA scan is typically used to diagnose and follow osteoporosis, as contrasted to the nuclear bone scan, which is sensitive to certain metabolic diseases of bones in which bones are attempting to heal from infections, fractures, or tumors.
Uses
DXA scans are used primarily to evaluate bone mineral density. DXA scans can also be used to measure total body composition and fat content with a high degree of accuracy comparable to hydrostatic weighing with a few important caveats.[3] However, it has been suggested that, while very accurately measuring minerals and lean soft tissue (LST), DXA may provide skewed results due to its method of indirectly calculating fat mass by subtracting it from the LST and/or body cell mass (BCM) that DXA actually measures.[4] DXA scans are also used to assess adiposity in children, especially to conduct clinical research.
Clinical Practices
DXA is, by far, the most widely used technique for bone measurements, since it is considered to be cheap, accessible, easy to use, and able to provide an accurate estimation of bone mineral density in adults.
The official position of the International Society for Clinical Densitometry (ISCD) is that a patient may be tested for BMD if he suffers from a condition that could precipitate bone loss, is going to be prescribed pharmaceuticals known to cause bone loss, or is being treated and needs to be monitored. The ISCD states that there is no clearly understood correlation between BMD and the risk of a child's suffering a fracture; the diagnosis of osteoporosis in children cannot be made using the basis of a densitometry criteria. T-scores are prohibited with children and should not even appear on DXA reports. Thus, the WHO classification of osteoporosis and osteopenia in adults cannot be applied to children, but Z-scores can be used to assist diagnosis.
Some clinics may routinely carry out DXA scans on pediatric patients with conditions such as nutritional rickets, lupus, and Turner Syndrome.[18] DXA has been demonstrated to measure skeletal maturity and body fat composition and has been used to evaluate the effects of pharmaceutical therapy. It may also aid pediatricians in diagnosing and monitoring treatment of disorders of bone mass acquisition in childhood.
However, it seems that DXA is still in its early days in pediatrics, and there are widely acknowledged limitations and disadvantages with DXA. A view exists that DXA scans for diagnostic purposes should not even be performed outside specialist centers, and, if a scan is done outside one of these centers, it should not be interpreted without consultation with an expert in the field. Furthermore, most of the pharmaceuticals given to adults with low bone mass can be given to children only in strictly monitored clinical trials.
Radiation Exposure
The radiation received by the patient during the scan is less than that of an airline flight from California to New York and back.
For more information, please visit