Ultrasound
Ultrasound, also called sonography, uses sound waves to develop ultrasound images of what's going on inside the body. A diagnostic tool with many medical applications.
Ultrasound Benefits:
Painless and safe
Not exposed to radiation
Helps in determining source of pain or infection
Clear picture of soft tissues
Picks up on abnormalities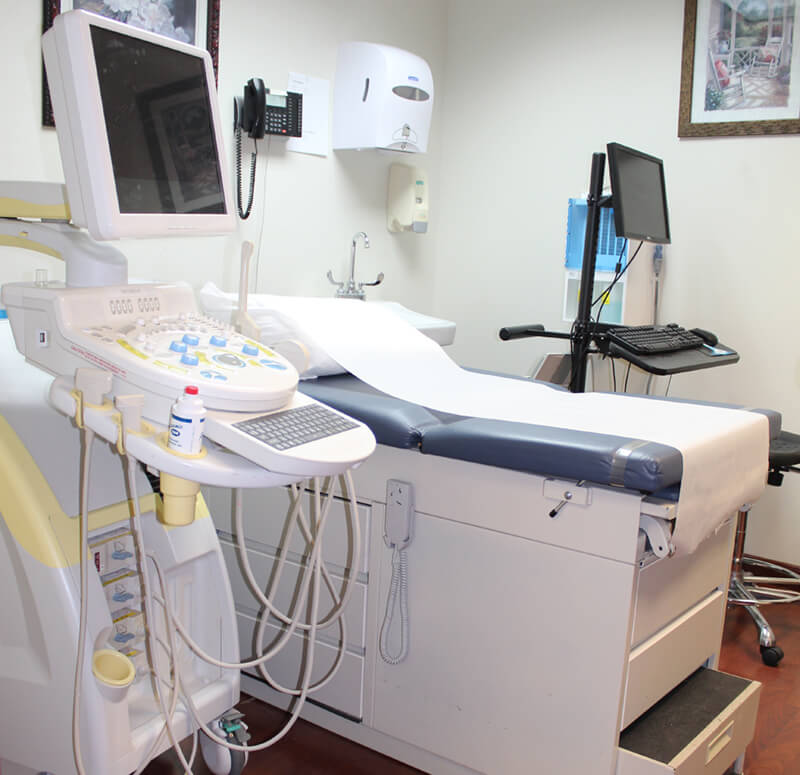 About Ultrasound
Medical ultrasound (also known as diagnostic sonography or ultrasonography) is a diagnostic imaging technique based on the application of ultrasound. It is used to see internal body structures such as tendons, muscles, joints, vessels and internal organs. Its aim is often to find a source of a disease or to exclude any pathology. The practice of examining pregnant women using ultrasound is called obstetric ultrasound, and is widely used.

Ultrasound is sound waves with frequencies which are higher than those audible to humans (>20,000 Hz). Ultrasonic images also known as sonograms are made by sending pulses of ultrasound into tissue using a probe. The sound echoes off the tissue; with different tissues reflecting varying degrees of sound. These echoes are recorded and displayed as an image to the operator.
Many different types of images can be formed using sonographic instruments. The most well-known type is a B-mode image, which displays the acoustic impedance of a two-dimensional cross-section of tissue. Other types of image can display blood flow, motion of tissue over time, the location of blood, the presence of specific molecules, the stiffness of tissue, or the anatomy of a three-dimensional region.
Compared to other prominent methods of medical imaging, ultrasound has several advantages. It provides images in real-time, it is portable and can be brought to the bedside, it is substantially lower in cost, and it does not use harmful ionizing radiation.
Diagnostic Applications
Sonography (ultrasonography) is widely used in medicine. It is possible to perform both diagnosis and therapeutic procedures, using ultrasound to guide interventional procedures (for instance biopsies or drainage of fluid collections). Sonographers are medical professionals who perform scans which are then typically interpreted by themselves or the radiologists, physicians who specialize in the application and interpretation of a wide variety of medical imaging modalities, or by cardiologists in the case of cardiac ultrasonography (echocardiography). Sonographers typically use a hand-held probe (called a transducer) that is placed directly on and moved over the patient. Increasingly, clinicians (physicians and other healthcare professionals who provide direct patient care) are using ultrasound in their office and hospital practices.
Sonography is effective for imaging soft tissues of the body. Superficial structures such as muscles, tendons, testes, breast, thyroid and parathyroid glands, and the neonatal brain are imaged at a higher frequency (7–18 MHz), which provides better axial and lateral resolution. Deeper structures such as liver and kidney are imaged at a lower frequency 1–6 MHz with lower axial and lateral resolution but greater penetration.
Medical sonography is used in the study of many different systems:
Anesthesiology
Angiology
Cardiology
Emergency Medicine
Gastroenterology/Colorectal surgery
Gynecology
Head and Neck Surgery/Otolaryngology
Neonatology
Neurology
Obstetrics
Ophthalmology
Pulmonology
Urology
Musculoskeletal
Cardiovascular system
A general-purpose ultrasound scanner may be used for most imaging purposes. Usually specialty applications may be served only by use of a specialty transducer. Most ultrasound procedures are done using a transducer on the surface of the body, but improved diagnostic confidence is often possible if a transducer can be placed inside the body. For this purpose, specialty transducers, including endovaginal, endorectal, and transesophageal transducers are commonly employed. At the extreme of this, very small transducers can be mounted on small diameter catheters and placed into blood vessels to image the walls and disease of those vessels.
For more information, please visit